3
Nov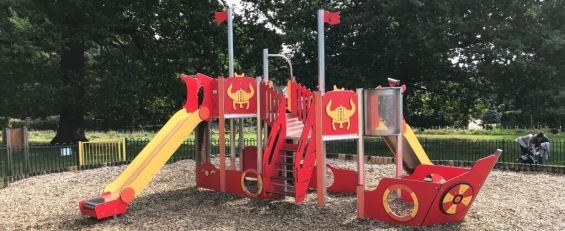 Protecting your playground equipment from the sun
The weather is becoming increasingly changeable and heatwaves a lot more common. There are many ways in which excessive sun can do damage to playground equipment and affect the investment that you make in it. That's why it's so important to look into the steps that you can take to protect your playground equipment from the sun, to prolong its life and ensure that it remains accessible to everyone who can benefit from it.
Picking the right location
When in the project planning phase of creating a playground, factoring in the need for shade for the equipment is going to be key. However, it can also be a real challenge because there may only be one single location allocated to the playground and that may, or may not, have the ideal environment. It's always essential to consider the immediate environment for a playground, and how that is going to have an impact on how the space is used. Some of the most natural settings for playgrounds are wooded areas or close to water – a wander under the trees to reach a playground, or being able to cool off in the water, can contribute to an overall more positive experience. In an urban area surrounding buildings can actually be very useful – the shade they provide can protect the playground equipment in the hottest part of the day.
Creating shade for your playground equipment
Shade is a key part of ensuring that playground equipment can be used all year round and doesn't get abandoned during the hotter months of the year. It can ensure that equipment is protected from potential damage and the type of shade that you choose can also contribute to the sensory experience of children using the equipment. The most obvious option for playground equipment shade is trees – local species can provide very effective shade during the summer. Lush and vibrant green can also contribute to an overall much more sensory experience. Another option is to add frames and sails to the playground to cover equipment when the sun is hot. Even in a country like the UK, known for its rain, rising temperatures mean that shade for playground equipment is now vitally important.
Choose materials with high thermal performance
High thermal performance materials can help to minimise the impact of heat and avoid burning so they are a vital component in playground equipment in hot spaces. Semi open structures with a partially open roof can be beneficial, allowing air to move but also providing some protection from the sun, especially where the roof is made from a temperature variation resistant material, such as grained polyethylene compound. Asphalt is one material to avoid, as it tends to be very sensitive in hot weather and can soften at high temperatures. Cork is a much better option, as it can reduce surface temperature by up to 20% – wood chips and natural grass also have a lower heat load when the temperature is high.
Playground equipment will last longer, and can be used more effectively, when it is protected from the sun.