31
Mar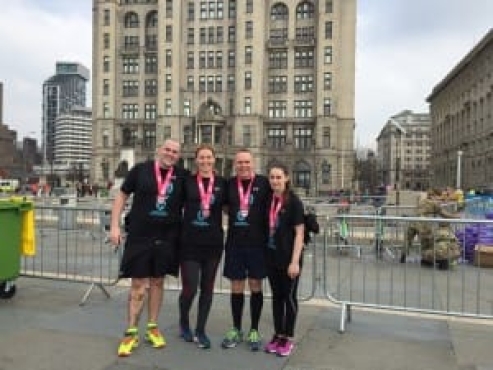 London Marathon Training Series, Month #8: 24th April and beyond…
With less than a month to go to the big day on 24th April, Jim's training regime has intensified, his fundraising has entered its last leg, and his diet has started to pay dividends. Best of all he seems to be really enjoying the experience and while the London Marathon may be enough for most people he's already setting his sights on an even bigger target, but I'll let him tell you all about that.
"Thanks Andrew. Well, as the man said, things have been stepping up a gear in the last month or so. Last time we spoke I mentioned the detox diet I was about to immerse myself in, a Winter Warmer cleanse of just juices and soups from Rawfully Good in Walton. This three-day intensive change to my food intake made a massive difference, helping me to lose 9lbs and, of course, the lower my body weight (within reason) the easier it is for me to run faster and further. However, the timing of this diet could have been better as I found out when I put myself through the Liverpool Half Marathon the day after I finished…
I just did not realise how vitally important it is to eat the right things before a run. I thought all diets were good for you, but without a 'decent' meal inside me I really struggled. I was wiped out and only just made it through the half marathon with my running club buddies, but I did make it through and I won't make the same mistake again with my diet timings. Everyone else did really well, especially as for them it was their first half marathon – so big shout out to Sarah, Chris and my run buddy Elizabeth.
Training has intensified, as Andrew said, with me alternating between three short runs and one short then one long run a week – averaging around 15-18 miles in total each week. This week I'll be doing two runs of seven miles and one of ten miles, then next week I'll be going for a final biggie of 21 miles.
The foot is still not great, but at least my GP has signed off on a cortisone injection the week before the big run. I'm not looking forward to it, but at least on marathon day it should dull the discomfort I still suffer from.
Oh we've got the squad hoodies sorted out – stylish attire in grey with my name and Twitter account emblazoned across it in pink, my running colours. I'm not sure how many of the ten or more family and friends who'll be coming down to London to support us will be persuaded to don the team colours, but I'm hopeful for four or five at least.
Caloo may be sponsoring me, but the real reason why I've taken on this challenge has been to support our local park committee, the Friends of Moorside Park. And I'm proud to say that we have recently been honoured for our efforts in looking after our green space. At the National Love Parks Awards in Nottingham our youngest committee member, Ben, at just 13 years old, won the Young Volunteer of the Year Award, and we also got recognition in the Partnership of the Year award for our circuits in the park from Pioneer Fitness (where we use the Caloo gym equipment).
A slight aside, but harking back to something I mentioned earlier about having the energy for a big run and how important it was to eat well beforehand, in our awards evening goody bag was a packet of jelly beans, and when I took them on a run with me the next day I found they gave me a great energy boost. Now, while that's not exactly what I meant by 'eating right' before a run, I did tweet the company to say how much they helped me in my training and they were kind enough to send me a box of them to take with me on the marathon – so thanks to Glendale!
As Andrew said, I already have my sights on bigger things – next March there is a Liverpool to Manchester run of 43 miles that I'm now excited about training for, so don't think that the London Marathon is the end of my obsession with running, as it looks like this may become a part of my life for some time to come.
Also, not to forget, we're still fundraising, so if you want to help us to help keep our park spick and span and a fun place for kids and adults to play and exercise (of course on the Caloo equipment we have there) then you can still sponsor me by going to my JustGiving page. And if you'd like to follow me on the day (remotely) you can do so through my Twitter feed @jimhicks1978 or via the hashtags #runbcj or #vlm2016.