22
Jun
The Popularity of Wooden Playground Equipment
Lately we have noticed an increase in the demand for wooden playground equipment. Although always present in the marketplace, wooden playground equipment has seen a sudden surge in popularity which has peaked our interest!
Environmentally Friendly Playgrounds
Throughout our lives there has been an increased movement on environmentally friendly products, from organic food to even electric cars, this development has gone across all sectors, so it's only natural for it to move to play. As wood is a sustainable material and if installed and maintained correctly timber will last for many years. Schools, councils and communities are able to build an environmentally friendly, long lasting playground with a wide variety of activities.
Many supplies use FSC-certified wood, this means the product you are purchasing is sourced from an environmental, social and economic standard forest. Each forest is managed from the protection of indigenous peoples rights to the methods of felling the trees. It is important to make sure you are helping the environment if you are purchasing playground equipment based on the environmental factors.
Back to Childhood
A high percentage of children have played in a wood or climbed a tree in a local neighbourhood, taking on this experience children can often relate better to a more natural playground. This exposes children to a material that they are familiar with, and helps them feel more in touch with nature through play. A great way to develop on these senses is through a wooden timber trail, this helps children develop vital skills such as physical development, cognitive/logic skills and social and emotional bonding all in one playground environment. The trail aspect allows children to move from one challenge to the next which can develop each of the above skills in different ways, while displaying a natural looking play space.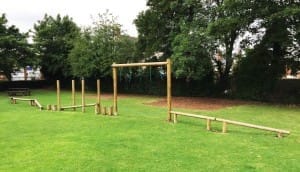 Many of the wooden playground equipment units develop sensory play. Ranging from sand boxes, water ways, insect hotels, magnifying posts and sensory totem poles etc each unit can work on touch, sight, smell and hearing.  Discovering each unique playground unit can allow children to learn about their natural environment up close and discover and play in a more structured format.
Due to the often-uneven nature of a wooden playground unit, children can challenge themselves through physical play. Much like climbing the tree, children can climb wooden rope ladders, scale the net onto a wooden structure or cross a wooden wobble bridge to challenge different muscles and cognitive skill sets. This works well for children that are not as confident in physical play as others, these natural structures can often include easier ways to climb than that of a local tree. These wooden playground structures can build confidence and engage children to socialise while playing.
A long term benefit of wood is that it does not heat up in the sun. This means risk is limited when choosing this method of playground equipment. Wooden playgrounds are always easily incorporated into an existing nature space, many heritage sites often opt for wooden playgrounds as it is more in keeping with the surroundings and will weather and blend in with existing nature areas.
All playgrounds should be a fun and exciting place to visit all year long, with the increase of wooden play equipment being installed, we are sure to see many changes to how people perceive the standard traditional playground the look and long term will see many more environmentally friendly focused play spaces being developed.