12
Jul
5 Reasons to choose a Playhouse for your Outdoor Space
Playhouses are proving to be very popular play units for both residential and commercial purchasing. The variety and scope of "added extras" for a playhouse now mean that not only are they are fun to play in socially, they can also offer  a lot for childhood development learning.
Developing Imagination
A playhouse was originally designed to give children a space to play of their own and a safe environment to develop role play skills. This is still very much the case today. Playhouses can be purchased as traditional styles through to the new innovative ranges which offer play panels, slides, sand and water play areas and many more exciting play features.
The playhouse allows children to work on their teamwork abilities, working together to enact a scenarios within the house setting including adopting another persona within the house. This role play in children builds confidence and social skills needed later in life.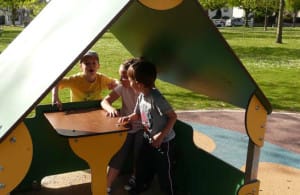 Social and Emotional Play
Children start to play together from about the age of two and a playhouse is often the starting point for these interactions. Social and Emotional play can develop a child's creativity, communication, cooperation with their peers, empathy and confidence.
Empathy is often a focus during this initial build of friendships, inviting a friend into the playhouse to play can be a big step in building on confidence and self-esteem for the child, the feeling of being accepted can help children develop a sense of belonging. A playhouse is often a place where children use to congregate so inclusion is key to developing good social and emotional skills.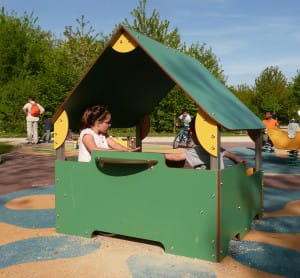 Physical Development
Although not your standard 'go to' unit for physical play, an outdoor playhouse can offer children more opportunities to move and play than at first glance. Fine motor skills are most challenged here, increasing muscle strength in the hands and building on coordination of the smaller movements in the hands, these skills are all developed within any playhouse space.
Hand eye co-ordination often plays a big part in a playhouse, whether it be opening and closing of the door, moving play panel features or enjoying a picnic inside with friends.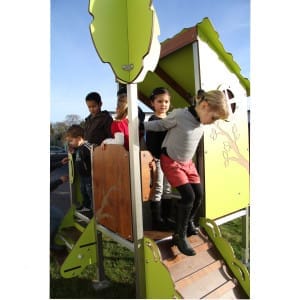 Inclusive Play
The great thing about playhouses is they are perfect for inclusive play! Children of all ages and abilities are able to use and interact with a playhouse. Many are at ground level which allows wheelchair users to get inside with their friends or those that are less mobile- children can gather around the seating area for group games and activities. Play Panels feature strongly and are built for ease of use so children can enjoy a puzzle maze, a spinner or even role play interactions at the kiosk partition.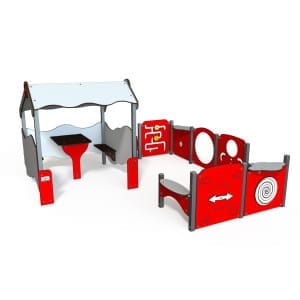 High Play Value at Low Cost
More often than not a play house is much cheaper than a multiplay unit but can offer the same amount of play value. The units predominately have a low fall height which again negates the need for any safety surfacing costs lowering the over price and installation considerably.
The small footprint is also a selling point for sites with minimal space and due to the unique styles and shapes of certain playhouses there is something for everyone's outdoor space!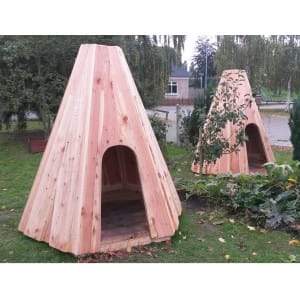 The experts at Fundamentally Children say "Playhouses give children the freedom and privacy to play, away from the prying eyes of mum and dad. Children are always being told what to do but in their own world, they can enjoy being in charge. Plus, because they have that privacy, children learn to plan and negotiate their make-believe games with their own peers, making playhouses amazing for social development. There is also plenty of opportunity for imaginative play, which develops children's creativity and helps them make sense of real world situations."
Monster Play @ Caloo's range of playhouses start from as little as £1025 + VAT, we offer everything from wooden tipi playhouses to fire towers, natural tree houses and large inclusive play farm playhouses, browse the full selection here: http://www.caloo.co.uk/product-category/playhouses/