19
Jul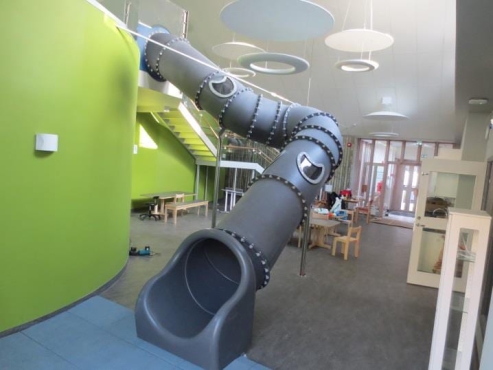 Tube Slides in the Office
We've noticed that quite a few companies are now adding tube slides into their office space. Being a supplier of tube slides here in the UK we thought we would investigate further!
Company offices are often quite sterile and bland spaces. The standard desk, chair, cubicle space is frequently the norm for a day in, day out working environment for most people. Companies are now looking to spend money on making the space more fun for employees. This has included the addition of play equipment!
Playground equipment isn't always for children nor is it just for the playground, added extras such as fun seating, themed 'playhouses' for meetings, chalkboard walls for ideas and now the tube slide are becoming ever popular in the workplace.
We can see that slides for adults are becoming popular within tourist destinations too! Such as the recent opening of the glass slide at the Queen Elizabeth Olympic park, this 178m helter skelter slide wraps around the orbit sculpture and you must be at least 8 years old to ride, with tickets for adults and pensioners on sale too!
Lots of talk around the Google office space is always present on the web, this relaxed approach on the working environment and their unique culture is said to have a positive impact on the productivity of employees and retaining employees within the business. This approach obviously doesn't suit all business models but for those looking for a change or in the process of a renovation it is something to consider.
Studies have shown that neglecting your inner child is often where behavioural, emotional and relationship problems stem from, so taking a quick slide down a tube slide could help you in more ways than you know.  We're not saying that by installing a tube slide you will have permanently happy employees but if someone is feeling stressed or having a lull in inspiration this fun element will take them back to childhood and rekindle the thrill and excitement of a slide no matter what their age!
Our tube slides are customisable and can be built to suit your space, why not check out the range today: http://www.caloo.co.uk/product-category/tube-slides/