20
Sep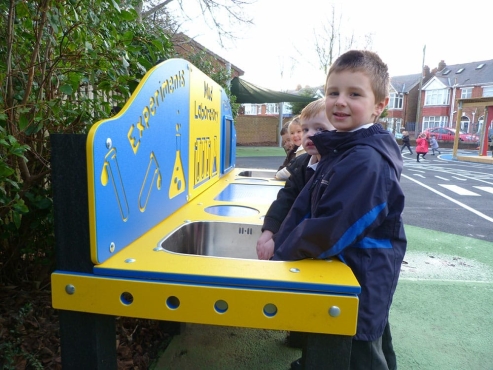 Get Messy with a Mud Laboratory
We find that Autumn is always a popular time for Mud Laboratory orders, so we thought we would go into a bit more detail about the Mud Lab and why people are turning to this product over the traditional mud kitchen.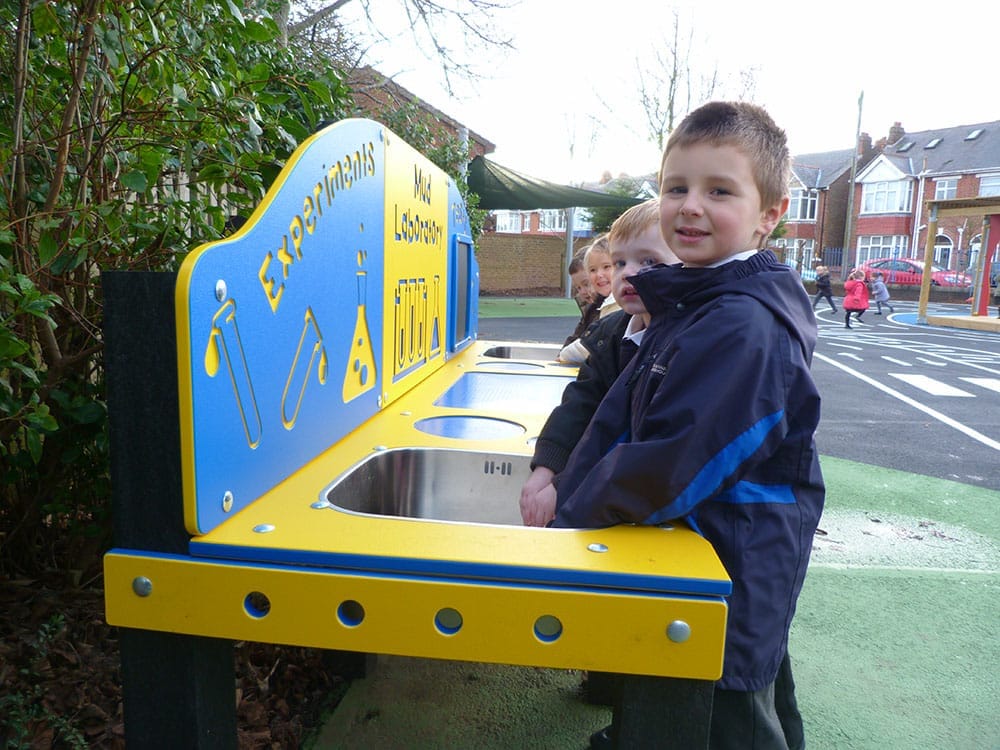 Learning and Development
Although not the most physical looking playground unit, children can still benefit towards their physical development with the Mud Laboratory. Fine Motor Skills are challenged by children creating their experiments! Stirring a devious new potion, pouring the mud tests into tubes and using the various equipment helps build muscle strength in the hands and develop the coordination of finger movement.
A small chalk board is also part of the laboratory to encourage writing. This can help children develop reading and writing skills during play, such as marking up different experiments they are trying, to counting successful potion creation attempts.
There are easy ways to develop logic and problem solving within the unit such as burying a selection of dinosaurs to dig and discover is also great fun for all ages, this can also create an element of communication between peers when searching for the missing items.
Imaginative Play
Everyone likes role play, this unit can be used to spark children's imaginations by pretending to be a mad scientist at work in the lab thinking up experiments, a Doctor creating new medicines for their patients or even a Wizard stirring up magical potions.
Children will come up with many more possibilities of role play around this unit and due to the imaginative play aspect of the unit, will also encourage social and emotional play. The layout of the unit encourages cooperation and teamwork, the side by side layout means children can easily pass equipment along to each other and help build a fun and exciting experiments, this also encourages sharing and turn taking with different utensils and areas of the unit.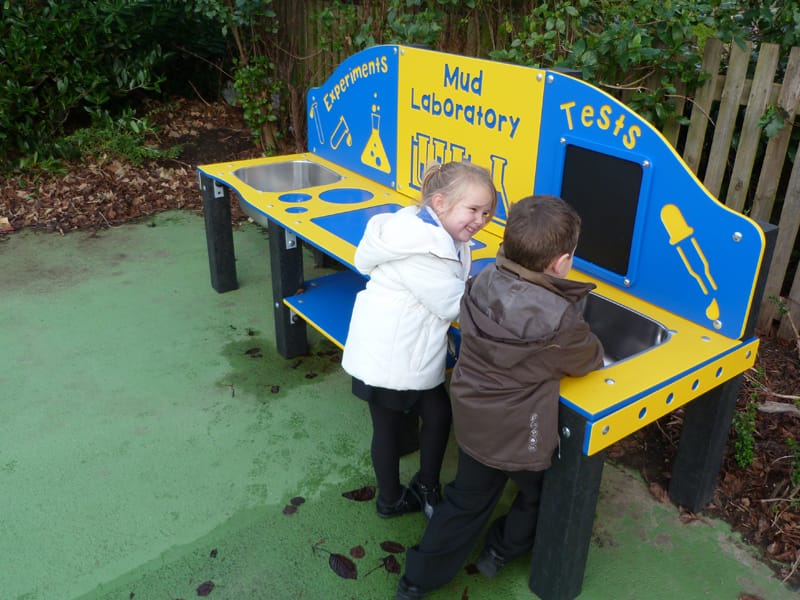 Mud doesn't always mean Mud!
We have many reports back of Schools using the Mud Lab for other fun textures and resources, some of fun examples are:
-Beans and Spaghetti
-Jelly
-Pasta
-Shaving Foam
-Wet Sand
Children love to explore with their hands and this unit allows a safer, cleaner way to interact with new mediums and textures. The unit will also fill up with snow which is great to get outside and play in the winter months.
We spoke with independent childhood development experts 'Fundamentally Children' about benefits the Mud Laboratory can bring to the playground:
"The Mud Laboratory's clever twist on a classic pre-school outdoor activity could really capture children's imaginations. There's something very reminiscent of Roald Dahl's George's Marvellous Medicine about it! Child-led play is the most important part of a balanced play diet, followed closely by creative construction, and this unit ticks both boxes nicely. Sand and water play is also great for fine motor skills, which are crucial for skills like holding a fork, writing with a pencil, or doing up a coat – all of which contribute to a child's independence and self-confidence."
If you are interested in one of our Mud Laboratories for the playground give us a call on 01442 265489 or e-mail info@caloo.co.uk for a quotation.