28
Aug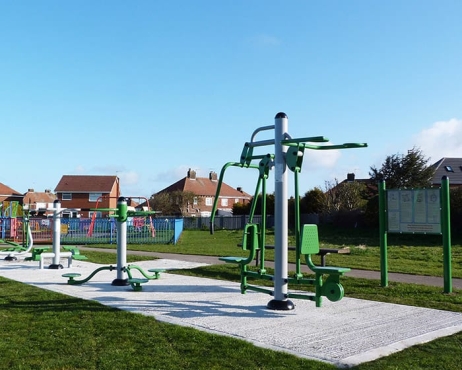 37 Outdoor Gyms In Sefton
We have recently completed 37 separate outdoor gym sites for Sefton Council. Originally in partnership with NHS Sefton, the Council awarded us this contract in Dec 2012 and we completed in April 2013. As far as we are aware, this is the largest single contract ever awarded to a UK Gym Company.
The 37 sites are scattered across Sefton's parks and coastal locations. Each site has a selection of 5, 8 or 10 units. The units range from cardio to strength based activities across the sites.Already, the feedback from residents has been positive and the gyms are hugely popular.
All the gyms are free, easy to use and encourage residents to use outdoor space. They are also aimed at improving residents' health and wellbeing, increasing physical activity and health benefits on a range of lifestyle conditions such as heart disease, stroke and some cancers.
The gyms were first introduced in 2009 following the successful partnership between Sefton Council and NHS Sefton and based on the Parks and Greenspaces Development Strategy. The gyms were installed to increase physical activity, improve outdoor space, parks and greenspaces so residents used them more.
The equipment which will last approximately 20 years includes traditional apparatus plus more unusual ones such as a horse rider and surfing machine.
Cllr Moncur, Cabinet Member for Children, Schools, Families and Leisure said: "The outdoor gyms give residents a remarkable opportunity to lead an active and healthy lifestyle, while socialising at the same time. As a Council we strongly believe that making our outdoor spaces pleasant spaces to live is important to local residents' quality of life. The new gyms have already shown to improve health by encouraging people to take up physical activity, without costly gym membership. The great benefit of these gyms comes from the fact they can be used by people of almost any age or fitness level and have the potential to reach out to different parts of the community and bring them together in a shared space."
The outdoor gyms located in the heart of local communities are assets to parks and open spaces. Many of them are linked to Sefton Council's 'Active Sefton' programmes including walking and cycling initiatives. 'Friends of Parks' also use them for example Moorside Park is using theirs to hold 'Fitness in the park circuit training sessions'. Feedback from gyms users has been very positive and they are being used by all ages at all times of the day.
Dr Janet Atherton, Sefton's Director of Public Health, said: "There is growing research which shows that outdoor physical activity improves our mental health and wellbeing. The outdoor gyms offer residents the opportunity to improve their emotional wellbeing while getting fit. You don't need any experience to use the gyms which are also environmentally friendly. The gyms are linked to improving a person's mood and self-esteem in all ages and reduce the prevalence of physical inactivity that leads to higher rates of illnesses such as heart disease, obesity and heart related illnesses."
The outdoor gyms were funded by NHS Sefton, manufactured by Caloo, installed and maintained by Sefton Council's Parks and Greenspaces.
Andrew Kime, Caloo Director, said: "We are privileged to have worked with Sefton Council to install the outdoor gyms which are the single largest project of their kind in the UK. We are proud to be involved with this scheme especially as it showcases collaborative working between private companies, the NHS, Sefton Council and the voluntary sector".