21
Sep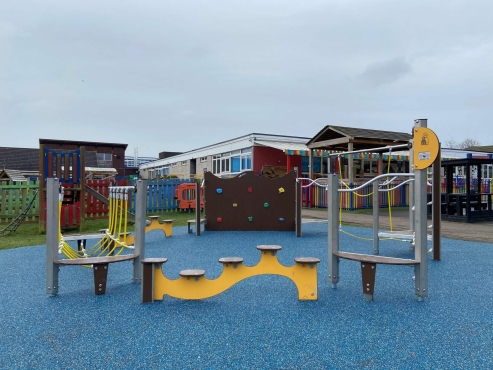 What Are The Types of Playground Equipment?
What are the types of playground equipment?
Outdoor play provides children with an opportunity to socialise and explore their imaginations. At Caloo we transform playgrounds using unique and creative pieces of play equipment suitable from early child to teenage years.
 Below we will share the types of playground equipment that we supply and have done for over 10 years to local authorities, schools and playgrounds across the UK.
Caloo Caterpillar Unit
We've taken Colin the Caterpillar out of the shops and into the playground with our early years play activity trail unit. Specifically designed for cooperative play, children can improve their social skills whilst working with one another to overcome the obstacles.
With its vibrant colours, animal theme and numerous activities, children aged 2 – 10 years will be excited to traverse the engaging activity trail. Whilst embarking on their imaginative journey, children will improve their climbing skills, hand/eye coordination, learn to take managed risks and learn to take turns whilst watching in the seated rest area.
This is a fantastic piece of playground equipment for any play area looking for a stand out piece that will capture the attention of children.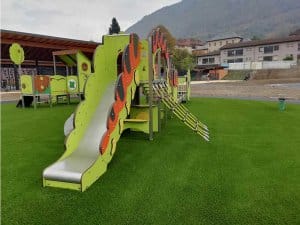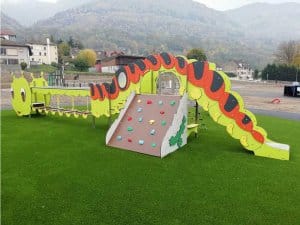 Robinia Large Multiplay
If you're looking for a natural themed durable multiplay unit that will encourage children aged 5 – 14 years to be active and improve their balancing skills, then our Robinia Large Multiplay unit is the perfect addition to your play area.
 Children can navigate the balancing beams to reach the two towers and reward their journey by using the slides. There are many climbing features to this multiplay unit which will help children improve their motor skills whilst teaching them to be patient with one another.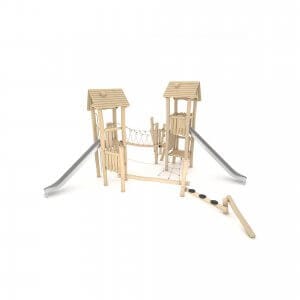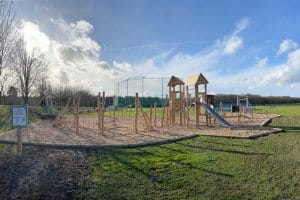 Climbing Circle Agility Trail
A great agility trail for children aged 2 – 10 years, our climbing circle agility trail can be installed in school playgrounds, parks and other outdoor spaces to be used by children. 
 This is a great way to improve the motor and balancing skills of children whilst encouraging them to be supportive of one another whilst navigating the trail.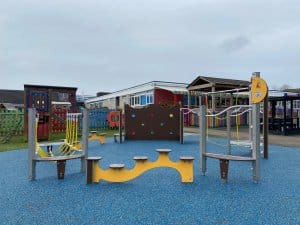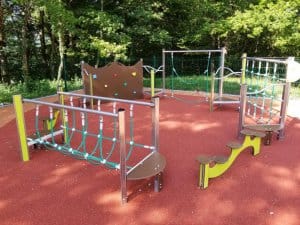 Robinia Double Basket Swing
Another in the Robinia range, the double basket swing is a great way for children and caregivers to spend some time together whilst admiring nature and their surroundings. The Robinia acacia wood is characterised by natural, bright colours and has high weather resistance which makes it a great solution for UK based play areas.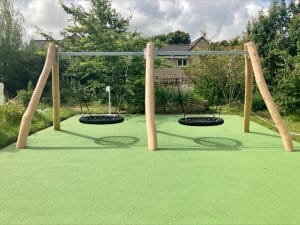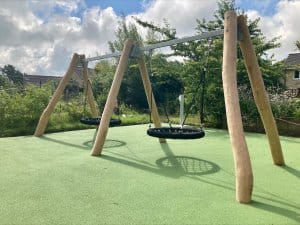 In addition to the small selection of unique playground equipment that we have shared, Caloo also supply and install themed springers, musical equipment such as outdoor drums and various play panels which help improve a child's logic.
If you have questions about any of our playground equipment, you can call us on 01296 614 448 or use our contact us form.