4
Mar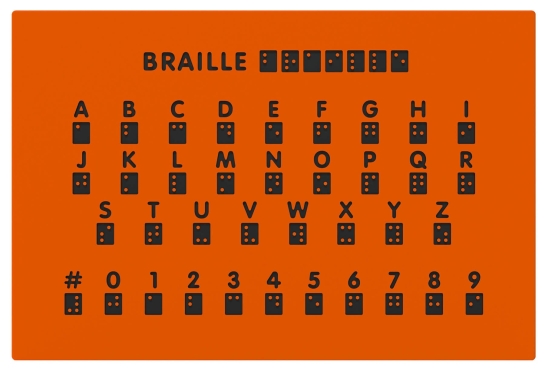 What is an Inclusive Playground?
Put simply, an inclusive playground has playground equipment suitable for children and teenagers with different abilities. From wheelchair trampolines to sign language panels, every young person deserves to have a space to learn through play whilst socialising with others and building their skills.
At Caloo we want to help local authorities, parish councils, councils, schools and housing developers create spaces for their local community to enjoy. We have a wide selection of inclusive playground equipment and have listed the top 5 with their benefits below!

1 – UK Sign Language Panel
Children, teenagers and adults can improve their sign language skills, helping those that are hard of hearing to feel included in social situations. Printed onto a 100% recyclable HDPE panel, each letter of the alphabet has a corresponding hand gesture to help both those that are hard of hearing and those of hearing to improve communications with one another.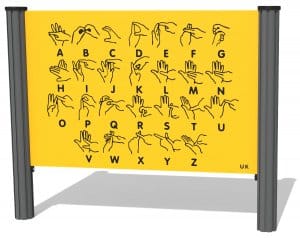 This sign is perfect for any outdoor space such as school playgrounds or parks.
Find out more here
Enquire here

2 – Inclusive Wheelchair Swing
Wheelchair users aged 3 – 12 years can enjoy the motion of swinging with our Inclusive Wheelchair Swing. Children simply go onto the platform, attach their wheelchair breaks and hold onto the metal poles on either side of the swing. Momentum will be generated by the movements of the child whilst they hold onto either side of the wheelchair swing.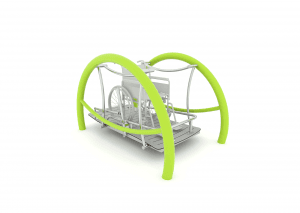 Find out more here
Enquire here 

3 – Discovery SEN Large Playground
Children aged 2 – 6 can enjoy the multiple activities available on this large playground. With play panels, slide, climb net, platforms, sheltered seating and a wheelchair friendly ramp, children of all abilities can enjoy improving their skills in socialisation and coordination.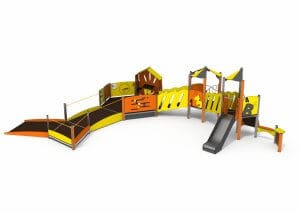 Find out more here
Enquire here

4 – Braille Alphabet and Number Play Panel
Children and teenagers that require braille to read can improve their knowledge of each letter by using our braille alphabet and number play panel. This panel has no age limit and can be used as an educational tool to increase awareness and understanding of braille.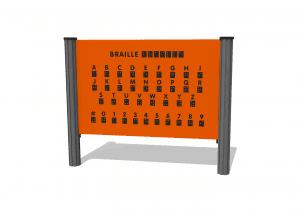 Find out more here
Enquire here  
5 – Nursery Sensory Totem Pole
Our nursery rhyme sensory totem pole encourages children to explore textures and shapes, improving their sensory perception. Children can collaborate with one another to identify the shapes engraved on our nursery rhyme sensory totem pole which in turn improves their ability to communicate and socialise.
Children of all abilities can enjoy this sensory journey.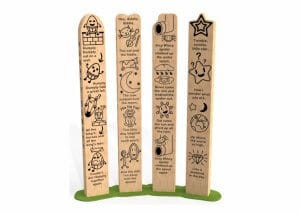 These nursery rhyme sensory totem poles are priced per one pole.
Find out more here
Enquire here
Our inclusive playground equipment will ensure that all children and teenagers feel comfortable playing in an outdoor space free of obstacles. It's important that every child has access to play spaces as many skills can be learnt through interacting with a variety of playground equipment.
If you have any questions about our inclusive playground equipment, you can contact us via email: info@caloo.co.uk or call us on 01296 614 448. Alternatively you can use our contact us page to submit a query.