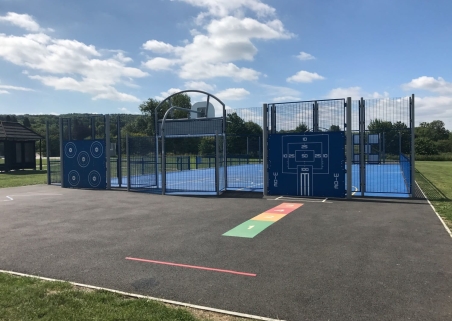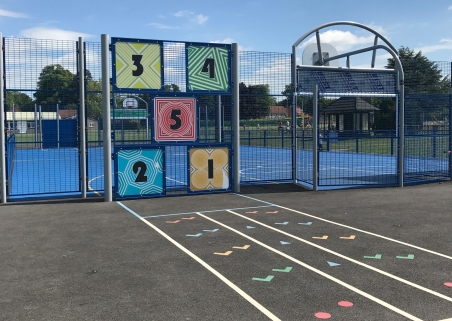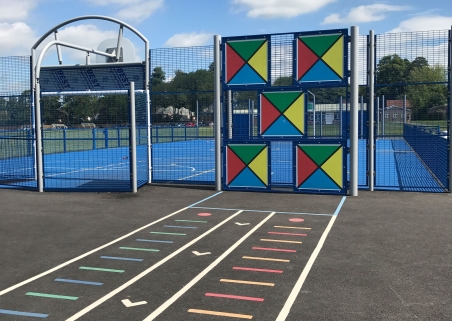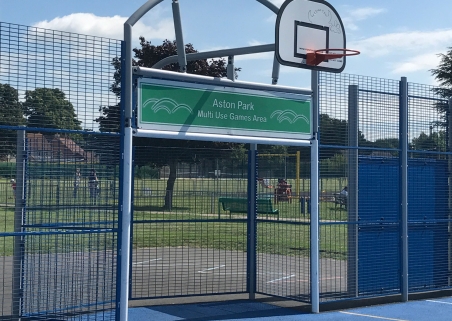 Project Details
CLIENT
Aston Clinton Parish Council
DATE
2016
PROJECT
Multi Use Games Area
The Site:
Aston Clinton Park is situated within Aston Clinton Aylesbury and is an active space for the local community. The Multi-Use Games Area was to be created alongside the existing local play area, providing more activities for all ages to enjoy. A site visit, risk assessment and health and safety report was conducted to allow Monster Play to provide Aston Clinton Parish Council with the best solution to meet their needs.
The Brief:
The Client indicated they wanted the Multi Use Games Area (MUGA) to provide opportunities for older children to play football and basketball alongside some added games features external to the MUGA. The site required fencing and surfacing, with a focus on brightly coloured Acrylic Coated Tarmac.
Equipment Installed:

• 16m x 28m MUGA with Game Markings,
• Heavy Duty Rebound Fencing,
• Two Goal Units, Two Basketball Hoops and Four
Games Walls,
• Blue Acrylic-coated tarmac surfacing with game
markings.
The MUGA in Aston Clinton Park, Buckinghamshire was installed in December 2015 by Caloo and their team of contractors.  Aston Clinton Parish Council had been the recipient of a relatively large sum of Section 106 money, via their District Council.  This is funding set aside from new housing, by the developer and must be put towards recreational facilities for the village.  The parish council wanted to boost sports and games in the village, aiming provision specifically at young people and had prioritised the MUGA from this money.  Caloo was chosen, following the usual 3 quotes procedure.  Having money enabled us to have the best rather than the cheapest, although a huge range is available from a variety of suppliers.
"Caloo were in on our deliberations from the start with helpful but not pushy advice.  They were aware we were undergoing a quoting process but when they laid out what they could supply, in the end it was obvious who the supplier should be.  We decided on an Interactive MUGA with capabilities for football, cricket, challenge wall, knock out wall, 5-a-side and basketball.  Now that it is installed, it feels like much more.  We did wonder about  a great big piece of steel in the park but now it feels like it has always been there.  It is attractive, colourful and loaded with things to do.  We were lucky we could afford the external games options as well as internal and these have stimulated all kinds of interesting play from the local children.  The interior is very well-used.  There are groups on it every day – all informal, and in fact the informality of it has led to more cooperation in the park, as the different age groups interact and make allowances for each other to play.  The only structured groups using it have been junior football and Buggyfit (ladies exercising with their little ones in buggies).  These activities do not book the MUGA as we have never felt the need to introduce a booking system, yet they never seem to clash with other groups wanting to use it.
From the start Caloo were easy to work with, communicative and TIDY!  they started when they said they would and finished within the timeframe.  They have recently been back to paint-on the markings, which had to wait until drier weather, and this has stimulated even more play.  The MUGA is a very popular item in the park, sturdy and well-constructed but colourful and of a decent quality.
We invite anyone who is thinking of having one to come and visit ours.  Highly recommended!"
Gill Merry – Parish Clerk